The most common political question in Sweden this year 2018 and for our eight political parties are:How shall we integrate into our society all refugees that have come from warfare countries into Sweden during 2015 and 2016? More have than ever before have come from countries south of Europe. This fall 2018 we are going to have a new National Election. Such questions about how to integrate immigrants are not new to us. Since the year 1950 we have every year received more immigrants than lost emigrants. Our immigrants have since many years played an important positiv role when we continuously have made improvements of our community services and expanded our industry.
​
Sweden has currently 10 million inhabitants. During 2016 we recived 163 000 immigrants from many different countries. They came from: Syria 51 500, Eritrea 6 000, Polen 5 000, Irak 4 900, India 4 200, Somalia 3 800, Afghanistan 3 600, Finland 2 900, Germany 2 600, and 15 300 were born in Sweden, and had came back from abroad. More immigrants than before came this period from muslim countries.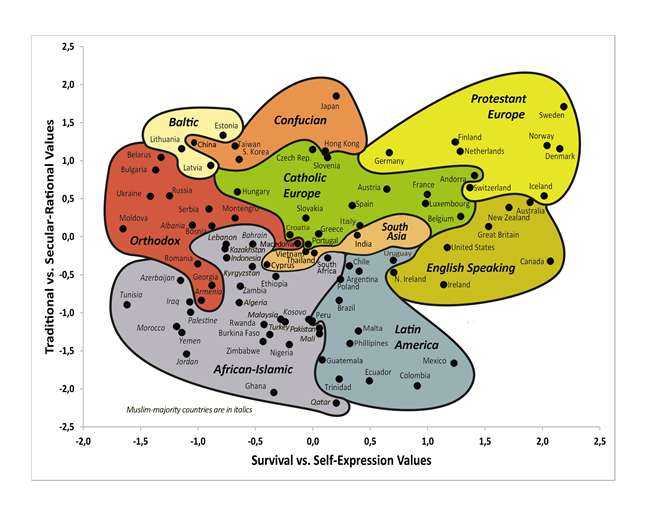 Notice that Sweden has a unique position on top to the right representing a country with a large degree of population with Secular and Self-Expression Values. Many immigrants have however come from countries dominated with much more of Traditional and Survival Values. Sweden happens to be a country with a population with more of the values that United Nation has set as a goal to reach. Survey respondents answerd to questions regarding: beliefs, values, economic development, democratisation, religion, gender equality,
social capital and subjective well-being.
​
The Swedish position represents a country, with people not only searching for freedom-values but also with a sence of solidarity and
to be broad-minded. This is built not only on a high degree of trust together with the group of people with whom they lived together. This includes also trust with previously unknown people.
This is a summary of results from the last World Value Survey. In this survey 250 questions were answerd by more than 90 000 people in 57 different countries. Results could be measured in more than 400 different variables. If you want to learn more about this survey you can make use of the following address: www.worldvaluesurvey.org.
​
In a large study with 94 000 people in 99 countries a special study was made with muslim immigrants from Middle East who had moved to western countries. Values among these people was somewhere between values in countries they emmigrated to and values in countries they had left, when it came to democratic rights and gender equality. But not so much when it came to values regarding homosexuality, divorse and abortion. Even after several years in their new country environment they stayed with the same religion they had in the country they had left. Sweden need a survey to find out what will happen with muslim immigrants in Sweden.